Sigma Power Online UPS generates the pure sine wave output by using the smart Double Conversion technology. It converts the input AC supply to the Dc & then the DC is converted to AC output to ensure the constant 230V output supply on mains & inverter as well.
Thus the output is isolated from the mains input so that the load connected to the output is protected from fluctuations, spikes & surges of the abnormal conditions of the input AC supply.
Power Factor correction technology improves the power factor & saves the electricity up to 40%.
SIGMA POWER On-Line UPS provides True Sign Wave & Regulated Out Put.
Salient Features: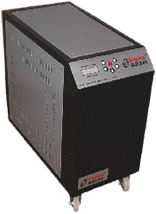 Double conversion online system With Complete isolation between mains to Output.
Power factor correction.
Micro controller based IGBT technology.
High Frequency, (Greater than 17.5 . Khz.) to ensure.

1.Low Switching Losses.
2.Purity of Sine-Wave.
3.Ultra-fast Transient Response.
4.Very Low Noise.

Compatible to any type of Genset.
Efficiency better than 90%.
Applications:

Computers
Telecommunication Systems
Data Centers
Medical Equipments
Satellite Systems
Air Traffic Control Systems
Industrial Equipments
Technical Specifications:
Technology

:

MPWM UPS, USING IGBT TECHNOLOGY with LCD display
True Online with complete isolation between Mains to output.

Switching Frequency

:

High Frequency, (Greater than 17.5 KHz.) to ensure.
· Low Switching Losses
· Purity of Sine-Wave
· Ultra-fast Transient Response
· Very Low Noise

Wide Input
Range

:

355 – 475VAC (Three Phase)

170 – 270VAC (Single Phase)

Accurate
Output

:

230VAC + 1.0 %
50 Hz + 0.1 % (Crystal Controlled)

a) Transient

:

For 100% step load change output stays within + 5% and
recovers within 5 m sec i.e. 1/4th cycle.
Other manufacturers normally offer much slower recovery i.e. within 60 msec. (3 cycles.)

b) Crest Factor

:

Greater than 5 : 1

Wave Form

:

Pure Sine Wave

Distortion

:

Total Harmonic Distortion less than 2% for linear load.
Total Harmonic Distortion less than 5% for non-linear Load.

Overload Rating

:

100% Continuous.
150 % for 30 seconds.

Operating Temperature

:

0 to 50o C, 95% R.H. (Maximum).

Inverter Efficiency

:

Better than 90%

Genset compatibility

:

UPS System is fully compatible to any type of Genset.

Protections

:

* Output Over-Voltage
* Output Overload
* Output Short Circuit
* Battery Under Voltage
* Forced Air-cooling to protect electronic &
other components from overheating

Indications

:

* Mains / Charger ON
* Inverter ON
* System Over load
* Battery Under-Voltage
* Output Under / Over Voltage

Alarms

:

* Mains Fail.
* Battery Low Warning.

Low Noise

:

Less than or Equal to 45 dB (A) Standard at 1.0 mtr.

Charger

:

SMPS Based with Power Factor Correction to keep batteries in
Top condition.